SOC America at The Battery Show
The Show
The Battery Show is North America's largest advanced battery technology event. It covers advanced battery technology for the automotive, portable electronics, medical technology, military, telecommunications, utility, and renewable energy sectors.
The Battery Show was held September 11-13, 2018 alongside the Electric & Hybrid Vehicle Technology Expo and the Critical Power Expo in the Suburban Collection Showcase in Novi, Michigan, near Detroit. SOC America was one of 727 companies exhibiting at the shows.

About SOC
SOC is a high-quality fuse manufacturer
We apply high grade materials and innovative methods, always refining wire-in-air technology for circuit protection

We provide a variety of cataloged products as well as engineer-to-order products.

We view customers' circuit protection challenges as opportunities to create new products to serve customers' needs.
Approach to the market
Precise production standards — reliable and dependable fuses

On-time delivery — flexible and responsive supply partner

Build to order — every order built for a specific customer

Highest level of technical support — application support with fuse selection

Product customization — meeting customers' unique application requirements
The Show was a Success!
Over the course of the three-day show, 146 companies and prospective clients visited our booth to discuss their overcurrent (OC) circuit protection requirements. We were able to support the needs of automotive, industrial, and commercial electronics companies with our diverse product lineup.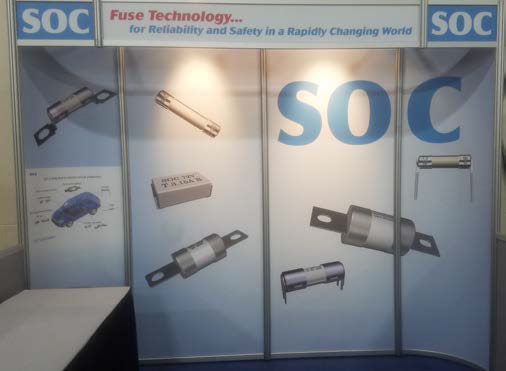 SOC is a fuse company devoted to high-quality fuses ever since its founding. Therefore, our booth represented the full scope of our products, from glass cartridge fuses, which marked our start in 1958, to the DC450VPT3050 350A fuse designed for the burgeoning electric vehicle market, as well as the MCF3, a micro fuse on the opposite end of the OC circuit protection spectrum with a current rating of 28 mA. These products were displayed on our custom backwall together with samples for booth visitors to evaluate.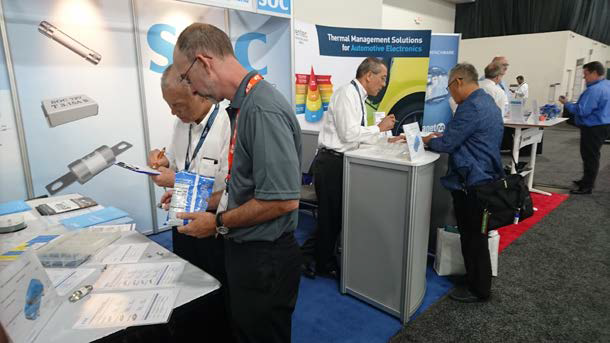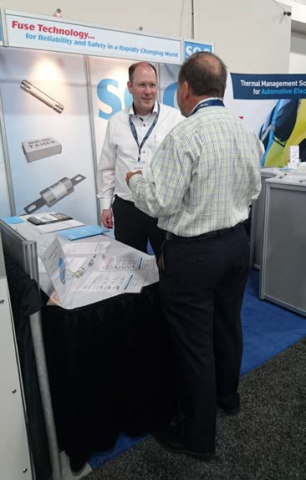 SOC is international, as are the individuals who staffed our booth. Colleagues from SOC Headquarters in Tokyo and SOC Europe in the Netherlands were on hand to lend help to booth visitors in their native tongue whenever possible. German, Japanese, and English were spoken throughout the exhibition. Booth visitors came from more than 10 countries spread over three continents. Within North America alone, visitors came from 25 states and provinces. Even after the exhibition, correspondences with visitors are ongoing in not only SOC America but also Headquarters and our offices in Europe and Asia.
SOC America chose The Battery Show to showcase its portfolio of high-performance automotive fuses, among other products, in Motor City, the hometown of the American automobile. Thanks to its success, we were able to meet important current and prospective customers. Building on this momentum, we will expand our presence in global markets to provide high-quality and highly reliable fuses.