MCF3 (2.4 x 1.5 mm Sealed Fuse)
Application Note
MCF3
Compact surface mount fuse with very low current ratings down to 28 mA, capable to operate safely at low voltages and suitable for explosion-proof applications (2.4 x 1.5 mm Sealed Fuse)
MCF3 is a new generation surface-mount and hermetically sealed fuse made possible thanks to SOC's unique miniaturization technology that builds upon the in-air design of SOC's cartridge fuses in which the fuse element is stretched and suspended inside the fuse body.
This application note introduces MCF3's exceptional performance, construction, and primary applications.
1. Performance attributes
2. Construction
3. Primary applications (applicable devices)
SOC Group:

SOC Corporation
SOC America
SOC Asia
SOC Europe
Performance Attributes
A compact surface mount fuse with minimal variation of pre-arching characteristics thanks to its construction in which the wire element is suspended in the air.
Operation at low currents is made possible by dramatically reducing resistance through the application of wire element.
Lowest rated current is as low as 28 mA.
Hermetically sealed construction suitable for use with devices in explosion-proof areas
Low weight thanks to case and cover made with resin materials (35% weight reduction from SOC's preceding MCF model)
Pb free and halogen free in compliance with IEC61249-2-21
Certified by UL (C-UL-US Listed)
Construction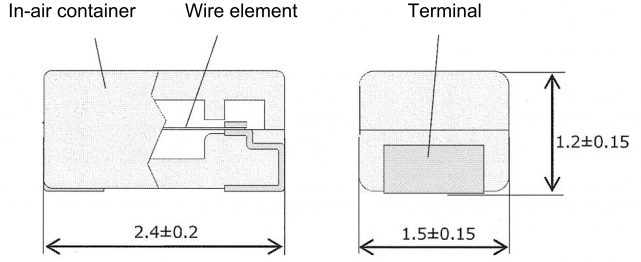 Simple construction comprised of case with terminals, cover, and element
Terminals are secured in the case by insert molding, and element is spot-welded to terminals. Hence, this product is made solder-free and Pb-free.
Heat-resistant materials used for case and cover
Case and cover are adjoined with halogen free and high heat resistance adhesives.
Satisfies requirements in IEC 60079-11 (Explosive Atmospheres – Part 11: Equipment protection by intrinsic safety) Section 10.6.2 (Determination of the acceptability of fuses requiring encapsulation)
With the above, the fuse's construction is made compact, hermetically sealed, and surface mountable so that it can be used in a wide range of applications.
Primary applications (applicable devices)
Protection of devices for explosion-proof use
Compact surface mount fuse with airtight construction for explosion-proof areas, compatible with low current ratings, and optimal for portable explosion-proof devices.
Sequencer output circuit protection and POL (Point of Load) power supply output protection
It is optimal as a surface mount fuse for overcurrent protection of control circuit outputs of sequencers and other FA devices, or for overcurrent production of POL power supply (DC-DC converter) installed in close proximity to the load circuit.
Low voltage power supply circuit protection
Fuse with low power loss for overcurrent protection of portable devices powered by batteries and other low voltage power supplies
This surface mount fuse is optimal for a wide range of applications, such as the following.
4. Medical devices
5. Communication devices
6. Measurement devices
7. Portable devices
8. In-vehicle devices
Specifications

| | |
| --- | --- |
| Rated Breaking Capacity: | DC50A Resistive Circuit, AC50A Power Factor 0.95-1.0 |
| Certifications: | C-UL-US Listed |
|   | UL248-1&CSA C22.2 No.248.1, UL248-14 & CSA C22.2 No. 248.14 |
| Construction and Size: | Please see previous pages |
| Appearance: | |
| Overload operation performance: | Operates within 60 seconds at 200% of rated current |
| Carrying current capacity: | Until temperature is stabilized at rated current |